SRINAGAR: A video showing two terrorists including a former police man assembling a bomb at an undisclosed location in Southern Kashmir has emerged on social media.
In 6:54 minute video, terrorist can be seen assembling different kind of explosive material and configuring an IED.
Terrorists, according to reports are affiliated with Hizb-ul-Mujahdeen terrorist outfit and are being identified as Jahangir Ahmad alias Haris Bhai, a resident of Achan Pulwama and Naveed Babu alias Abdu Azim, a resident of Nazneenpora Shopain.
Naveed Babu, a former Jammu and Kashmir Police constable is being introduced as IED Expert. The video has alerted security forces and intelligence agencies across the state ahead of annual Amarnath Ji pilgrimage.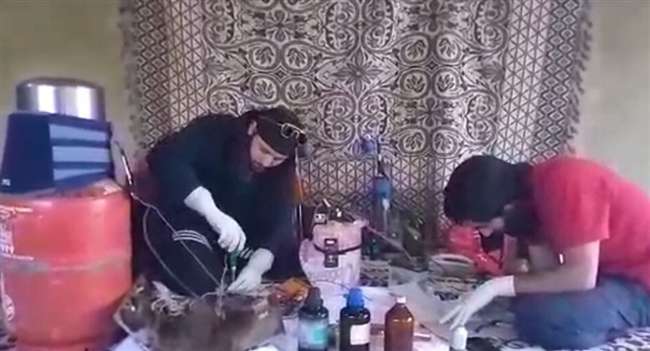 Video shows explosive material including a gas cylinder, chemicals and other material and terrorists at the end of the video smiling and parrying. Video suggests that the militants are expert in assembling Improvised Explosive Devices (IED).
Ahead of annual Amarnath Ji Yatra, Jammu and Kashmir Governmentsaid that sufficient precautions will be taken for the smooth conduct of the upcoming Amarnath yatra.
Last week, Ministry of Home Affairs prepared a list of top terrorist commanders including Reyaz Naikoo and directed all security agencies to expedite its operations to wipe out the militancy network by eliminating top listed militant commanders.
So far in this year from January to June, security forces have killed 115 militants including eight commanders and 38 terrorists affiliated with Jaish-e-Muhammad outfit that carried out the deadly Pulwama suicide attack.