Holi might be widely celebrated as the festival of colours nationwide, but for many women, it is a nightmare turned into reality every year. This year, this nightmare seems to have come early for these students.
Taking the 'bura na maano, Holi hai'phrase on its face value, this is probably not the first time somebody has been at the receiving end of hooliganism and sexual harassment under the facade of "celebrations".
In a shocking incident, a University college student has alleged that a group of unidentified men threw a "semen-filled" balloon at her recently.
The Police said the incident has come to their knowledge and they are trying to contact the girl so that an investigation can take place.
Notably, the student made the claim in a social media post on February 24. "I didn't know what semen flinging was, I learnt that today. My kurti (dress) tells the tale," wrote the horrified and angry student of Lady Shri Ram College for Women in her Instagram post.
In the post, the girl, who hails from the North-East, said, "I went out with a friend for lunch to a cafe in Amar Colony Market. At around five when heading back in a rickshaw there came flying my way a liquid-filled balloon hitting me in the hip where it burst open, its content seeping into my dress. It dried white on my black leggings… I did not guess what it really was. Only when I returned to my hostel to hear another friend of mine talking about semen-flinging".
She added in the post: "Not a single person in that busy market batted a single eyelid at the sight of men throwing such balloons."
The student further wrote: "Ever since I moved to this city seven months ago, I've been bumped by more than once by men. All accidentally of course. Hands have patted on me inappropriately," adding that she has also been called derogatory names.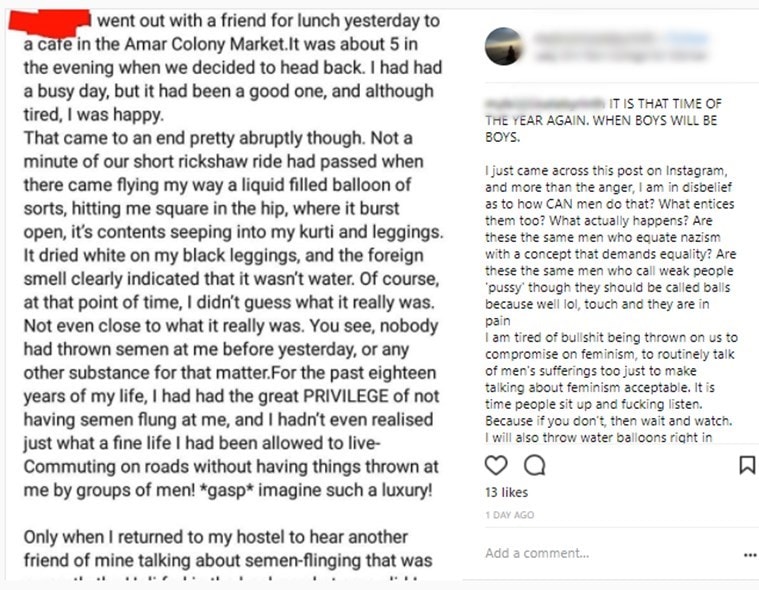 Meanwhile, a senior police official said that they have not received any complaint regarding this yet. The Delhi University had on Monday announced elaborate internal and external security arrangements on campus, hostels and other colleges to counter any possible threat under the garb of Holi celebrations.