Regarded as paradise on the earth, Kashmir also offers a plethora of rich food delicacies. Kashmiri cuisine has mostly been associated with its rich meaty delicacies like Rogan Josh, Yakhni (yogurt lamb curry), matschgand (a dish of minced meatballs which is cooked in spicy red gravy), or the Goshtaba(minced mutton cooked in flavorful yogurt gravy) but the cuisine also offers numerous finger-licking vegetarian delights.
Paneer Chaman or Ruangan Chaman is one such vegetarian delicacy that is as delicious and exquisite as the meaty curries.
This traditional Kashmiri dish is every paneer lover's dream come true. Rich cottage cheese sprinkled with brown and green cardamom is slowly cooked in milk till it turns tender and golden.
Chaman in Kashmiri means tomato. What makes this dish unique is the rich tomato and milk-based gravy flavoured with aromatic fennel powder.
Chef Sadaf Hussain, a participant of Masterchef India 2016, tells us, "Paneer is a very versatile ingredient and every state has their own regional way of preparing it. In Kashmir, paneer is first fried and then cooked only in a tomato-based gravy.
These two simple and underrated ingredients come together with spices like fennel powder, garam masala, saunf, ginger powder, bay leaf, and few more, that give a unique and magical flavour to the dish and an unprecedented aroma."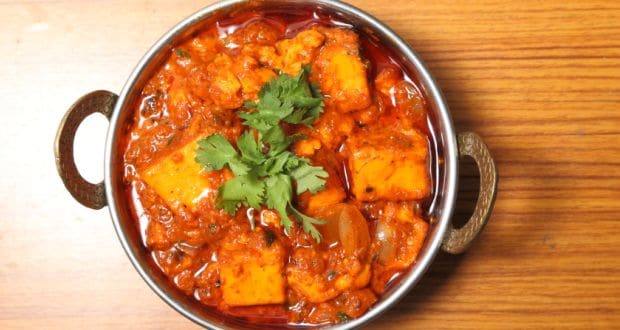 Kashmiri food has several Mughlai influences and traits. The use of fragrant spices like fennel, saffron, cardamom and dried fruits can be seen as a part of their rich and royal legacy. Other spices used include hing, fennel seeds, dry ginger and saffron.
Another very popular practice in Kashmiri cooking is the use of milk and yogurt in the gravy for the silky and creamy texture.
Paneer Chaman is the perfect example of exactly how the Kashmiris have tried to make the best of what they have in the valley and use it in their dishes to whip up some delicious and wholesome delicacies.
Paneer chaman is best enjoyed with Pulav or steamed rice. "Ruangan Chaman goes well when served with tandoori roti or butter naan and pickled onions," says chef Sadaf.
Here's a delicious recipe of Paneer Chaman by Chef Aditya Bal which you can try making at home. Garnish it with coriander leaves and serve hot.
Ingredients to make Kashmiri Paneer Chaman
Paneer – 250 grams
Tomato puree – 1 cup
Kashmiri red chilli powder – 2 teaspoons
Hing or asafoetida – 1 pinch
Cumin seeds – 1/2 teaspoon
Fennel powder – 2 teaspoons
Dry ginger powder – 1/2 teaspoon
Turmeric Powder – 1/2 teaspoon
Garam masala – 1 teaspoon
Ghee – 1 teaspoon
bay leaf – 1
Black cardamon – 2
Green cardamom – 4
Cinnamon stick – 1
Oil – 5 tablespoons (Preferably Mustard Oil)
Water – 1/2 cup
Salt to taste
How to make Kashmiri Paneer Chaman
Cut the paneer into thick rectangular pieces.

In a wok add 5 tablespoons oil. Shallow fry paneer pieces from both the sides till light brown. Keep them aside.

Add hing, then splutter black cardamom, green cardamom, bay leaf and cinnamon.

Add tomato puree, salt, red chilli powder, dry ginger powder. Cook till the masala leaves oil from the sides.

Add paneer to the masala. Now add some fennel powder. Mix.

Now add 1/2 cup water.

Mix well and let it cook for 2-3 minutes.

Add garam masala powder, ghee, cover with lid. Allow to cook for 2 minutes. Turn off the gas, garnish with chopped coriander leaves.

Enjoy it with hot steamed rice or any indian bread.
My Tip:
I always prefer homemade tomato puree instead of using store bought tomato puree.