Paramjeet Kaur : Meet 52 Year old granny the first women bike taxi rider from Punjab
Punjab, Aug 02 : The world often speaks about women empowerment and roadmap to gender equality, while some women prove the fact of being equal and well empowered.
How many women in India show passion towards working for their livelihood?
In Urban areas only 39% of women work neck to neck with men and what about the rest? Meet Paramjeet Kaur, a bike taxi rider hails from Mohali is a 52 year old grandmother who works commendably and stun even the men around.
Uber, which is a transportation service provider, came in Association with Punjab government, launched an initiative called Apni Gaddi, Apna Rozgar Under the programme, 100 bike taxis riders started operating in Mohali, Kharar, and Zirakpur.
For inaugurating the launch, Punjab Finance Minister, Manpreet Singh Badal came to flag off the bike taxi riders for their initial start up programme.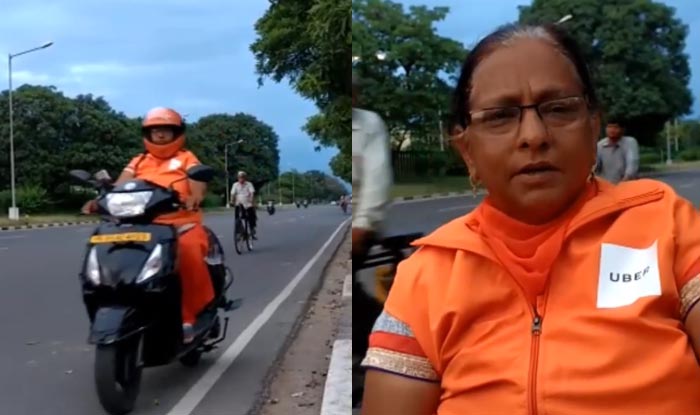 In the inaugural ceremony, Paramjeet Kaur, 52-years-old became Mohali's first woman to head on as a bike taxi rider among the 100 bike taxi drivers. The irony is Paramjeet Kaur lost her husband at a very young age and raised her children all by herself.
The woman who never layed back for all the gloom and despair life showed her, rather she stood strong to face all that came to her life. She is a mother to three grown children and a loving grandmother to one who lives with a passion to work endlessly for herself and as an independent woman of the age.
Initially, she had been in contract with Uber car, but the moment she received intimation regarding Uber's new bike taxi services, she just could not wait to switch. Paramjeet Kaur had always believed to be high headed in walking at par with men at the same time proving it to the world. She had been riding the scooter for past 10 years, so her love for riding had been for a very long time.
Though her family asks her not to toil in all day at this age but she believe it to be a good way in boosting the family income and foster growth and development for both on the same.
Paramjeet kaur says, 'I am very happy to be the part of new bike taxi service'. Importantly, after being trained by Uber, she started with test runs and ferrying passengers.
They are paid hourly basis, and she has been appointed a target of six rides a day and if it's not done, the bike taxi can be transferred to other rider.
Meeting up high with the pace, Paramjeet is managing completely moving over the targets, by providing closely 30 bike taxi rides a day.
A senior citizen she boarded recently commended her for such a big step taken and adviced more women to come outside of their homes and become working women in their own interest.
Her ravishing rides and dedicated passion for being self reliant is taking her long way in winning many hearts and setting worldwide examples.