By Roarke
So as soon as you got up, you were hit by the thought that you have not done your homework. But as soon as you reach your college, you start praying to God for saving you somehow by cancelling the lecture. If nothings works all you can come up with are the innovative and funny answers to escape from class or save your ass.
Has it ever happened to you that while you are in the Maths class and your teacher starts explaining some weird formulae meanwhile all you can see on the board is a collision between those weird of Greek symbols. Literally like Ishan Avasthi from " Taare Zameen Par".
If that was you, then you definitely used these excuses to escape class too:
The never-ending washroom break
Imagine loo breaks that extend to 15 minutes. You do not care for a second that everyone would think you are doing the BIG JOB instead of just loosening up your bladder. People would just go and bunk the remainder of the class and then explain to the teacher how you had to wait, as the cleaning department was at work in the washroom.
The easiest way to run from a boring lecture is by taking  a "pee-break" like a never ending one.
I met with an accident
This one is more common in colleges and is often used during the internal exams or for missing the first two lectures every morning because you just are too lazy to wake up. And if you are really scared that you will get pointed out later for bunking the lecture, the only option I could see is to convince everyone and escape. Of course it will take a little more time to convince the nerds.
My dead relative is dead again:
Imagine there's a final of a three-nation series between India-Australia-New Zealand and India is playing or even worse an India-Pakistan match. How the hell does one sit in a lecture? You just want to kill one of your already dead relatives and escape.
In between your lecture when you instantly feel the need to move out and enjoy nature's beauty and all of a sudden even the chirping of birds sounds like melody and you start imagining yourself as another Newton or Einstein who would probably be famous in near future.
No excuse but a math class is cancelled
Do you remember the sheer happiness and the joyous place the world would become as soon as you found out that the Math teacher had been called by the principal or had called in sick? Pure Ecstasy buddy!
Not Feeling well on a FRIDAY (movie release day)
And if it's Friday, then the undying craving to go and watch the new released movie is uncontrollable. Excuse: I have just developed an allergy to the whole universe and I am not feeling well now. You can actually fake that you are having an allergic reaction since you have ate something and make the saddest, reddest face by holding your breath.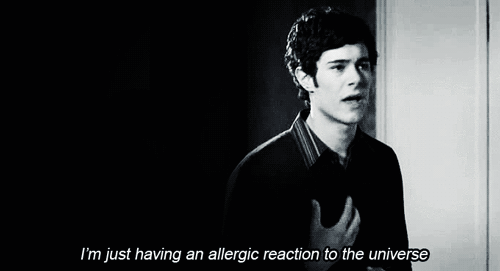 I want to study for the exams
This one is used even by the smart ones. Teachers generally have a soft corner for these pets and allow them to go. Using this excuse right after the intelligent guy or girl uses it, is the best time to use it.